SonicWall Gen 7 Firewalls

The Newest Generation of SonicWall Firewalls
TZ Series Firewalls for SMBs & Branches
The award-winning SonicWall TZ Series combines industry-validated threat prevention with best-in-class price performance. The new TZ270, TZ370, TZ470, TZ570 and TZ670 NGFWs offer a truly integrated, end-to-end platform for elite, automatic breach detection and malware protection - all backed by SonicWall's three decades of cybersecurity expertise. And with built-in SD-WAN, included DPI-SSL license, and technologies like Single Sign-On and Zero-Touch Deployment, the TZ Series offers the best value on the market.
Multi-gigabit (5/10G) interfaces in a desktop form factor.
TLS 1.3 and 5G for high speed, advanced threat prevention.
High port density of up to 10 ports, with expandable storage up to 256G.
Simplified deployment and single-pane-of-glass management.
Download Datasheet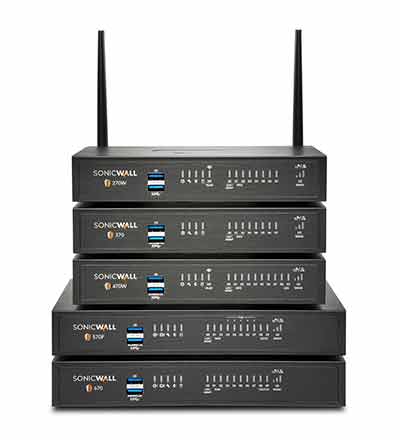 NSa 2700 Firewall for Mid-Sized Enterprises
The new SonicWall NSa 2700 expands multi-gigabit threat performance to enterprises, MSSPs, government agencies, as well as key retail, healthcare and hospitality verticals. The first mid-level firewall appliance on the new SonicOS 7.0 platform, the NSa 2700 delivers a modern UX/UI, device views, advanced security control, plus critical networking and management capabilities.
Advanced networking features including HA/clustering, SD-WAN, dynamic routing, and virtual routing and forwarding.
High port density and lowest total cost of ownership for firewalls in its class.
Centralized management using SonicWall's Network Security Manager.
Download Datasheet
NSsp Series Firewalls for Large Enterprises, Data Centers and Service Providers
The new SonicWall NSsp 15700 delivers advanced threat protection and fast speeds at a budget-friendly price. Options from multi-instance architectures to unified policy creation makes defending your environment simpler and more effective. Its high-speed connectivity and large port density - coupled with superior IPS and TLS1.3 inspection support - make the new NSsp 15700 an ideal threat protection platform for enterprise internet edge and data center deployments.
Offers multiple 100/40/10 GbE interfaces.
True multi-instance capabilities.
Complete end-to-end visibility and streamlined management with Unified Policy.
Simplified deployment and single-pane-of-glass management.
Download Datasheet

NSv Series Virtual Firewalls
The newest SonicWall NSv series of virtual firewalls deliver enterprise-class security and superior performance for virtual workloads. The new NSv 270, NSv 470 and NSv 870 firewalls, powered by the SonicOSX 7.0 operating system deliver enhanced capabilities and security including Unified Policy capabilities, TLS 1.3 support and high-speed virtual private networking (VPN).
Support for both private cloud (ESXi, Hyper-V) and public cloud (AWS, Azure) platforms, along with hybrid environments.
Complete end-to-end visibility and streamlined management with Unified Policy.
Easily provision layer 3 and layer 7 controls in a single rule base on every firewall, providing a centralized location for configuring policies.
Download Datasheet
Introducing SonicOS 7
Scale faster, protect more and re-gain control.
The new SonicOS 7 architecture is SonicWall's most advanced security operating system and is at the core of our latest physical and virtual firewalls, including models from the TZ, NSv and NSsp Series.
Read about SonicOS 7.0 Datasheet Read about SonicOSX 7.0 Datasheet