SonicWall TZ 215 Wireless Series

The highest-performing, most secure UTM firewall for small offices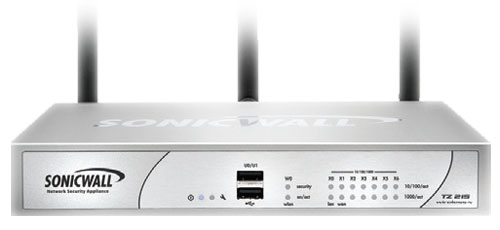 Pricing Notes:
All prices displayed are Ex-VAT. 20% VAT is added during the checkout process.
Pricing and product availability subject to change without notice.
SonicWall Products
Virtual Assist for UTM Appliances
SonicWall Virtual Assist opens up the possibility for a technician to provide on-demand technical assistance for laptop or desktop issues to a customer via a Web browser.
Learn More
SonicWall Virtual Assist for UTM Appliance up to 1 Concurrent Technician
#01-SSC-8831
Our Price: £311.31
Inc. VAT: £373.57
UTM SSL VPN Licenses
SonicWall Firewall SSL VPN 1 User License
#01-SSC-8629
Our Price: £31.42
Inc. VAT: £37.70
SonicWall Firewall SSL VPN 5 User License
#01-SSC-8630
Our Price: £135.00
Inc. VAT: £162.00
SonicWall Firewall SSL VPN 10 User License
#01-SSC-8631
Our Price: £217.05
Inc. VAT: £260.46
Global VPN Client for Windows
SonicWall Global VPN Client Windows - 1 License
#01-SSC-5310
Our Price: £31.42
Inc. VAT: £37.70
SonicWall Global VPN Client Windows - 5 Licenses
#01-SSC-5316
Our Price: £135.00
Inc. VAT: £162.00
SonicWall Global VPN Client Windows - 10 Licenses
#01-SSC-5311
Our Price: £217.05
Inc. VAT: £260.46