SonicWALL TZ 200 Wireless Series

Uncompromising Security and Performance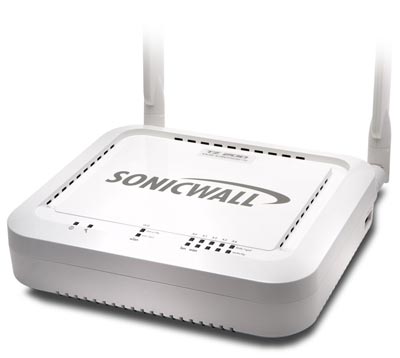 Pricing Notes:
All prices displayed are Ex-VAT. 20% VAT is added during the checkout process.
Pricing and product availability subject to change without notice.
SonicWALL Analyzer Reporting Software
SonicWALL® Analyzer is an easy to use web-based traffic analytics and reporting tool that provides real-time and historical insight into the health, performance and security of the network.
Learn more!
SonicWALL Analyzer Reporting Software For SOHO, TZ1xx, TZ2xx, TZ3xx, TZ4xx Series
#01-SSC-3378
Our Price: £89.29
Inc. VAT: £107.15
UTM SSL VPN Licenses
UTM SSL-VPN 1 User License
#01-SSC-8629
Our Price: £35.72
Inc. VAT: £42.86
UTM SSL-VPN 5 User Licenses
#01-SSC-8630
Our Price: £153.45
Inc. VAT: £184.14
Global VPN Client for Windows
Global VPN Client for Windows - 1 License
#01-SSC-5310
Our Price: £35.72
Inc. VAT: £42.86
Global VPN Client for Windows - 5 Licenses
#01-SSC-5316
Our Price: £153.45
Inc. VAT: £184.14
Content Filtering Client
Content Filtering Client - 10 Users (1 Year)
#01-SSC-1252
Our Price: £68.13
Inc. VAT: £81.76
Content Filtering Client - 10 Users (2 Years)
#01-SSC-1253
Our Price: £115.75
Inc. VAT: £138.90
Content Filtering Client - 10 Users (3 Years)
#01-SSC-1254
Our Price: £162.71
Inc. VAT: £195.25
Content Filtering Client - 25 Users (1 Year)
#01-SSC-1225
Our Price: £152.13
Inc. VAT: £182.56
Content Filtering Client - 25 Users (2 Years)
#01-SSC-1226
Our Price: £257.95
Inc. VAT: £309.54
Content Filtering Client - 25 Users (3 Years)
#01-SSC-1227
Our Price: £364.44
Inc. VAT: £437.33
Content Filtering Client - 50 Users (1 Year)
#01-SSC-1228
Our Price: £285.73
Inc. VAT: £342.88
Content Filtering Client - 50 Users (2 Years)
#01-SSC-1229
Our Price: £485.48
Inc. VAT: £582.58
Content Filtering Client - 50 Users (3 Years)
#01-SSC-1230
Our Price: £685.89
Inc. VAT: £823.07
Content Filtering Client - 100 Users (1 Year)
#01-SSC-1231
Our Price: £535.75
Inc. VAT: £642.90
Content Filtering Client - 100 Users (2 Years)
#01-SSC-1232
Our Price: £910.77
Inc. VAT: £1,092.92
Content Filtering Client - 100 Users (3 Years)
#01-SSC-1233
Our Price: £1,285.80
Inc. VAT: £1,542.96