SonicWall SMA 500V (Previously SRA Secure Remote Access Virtual Appliance)

Enable mobile and remote worker productivity while protecting your organization from threats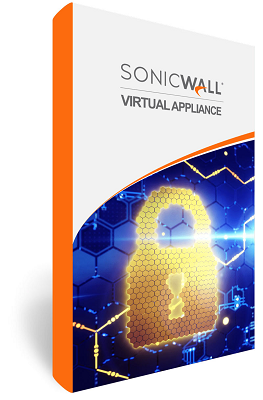 SMA Virtual Appliance
SonicWall SMA Virtual Appliance
SonicWall SMA 500V with 5 User License
The SRA Virtual Appliance provides small to medium-sized businesses with an affordable, Secure remote access solution that requires no pre-installed client Software and is easy-to-deploy, manage and use.
#01-SSC-8469
Our Price: £327.57
Inc. VAT: £393.08
SonicWall SMA 500v Secure Upgrade Plus with 24x7 Support
SonicWall SMA 500v Secure Upgrade Plus, 25 User Bundle with 24x7 Support up to 100 User 1 Year
*Requires Qualifying Trade-up Product.
Click here for details.
#02-SSC-2807
Our Price: £1,282.71
Inc. VAT: £1,539.25
SonicWall SMA 500v Secure Upgrade Plus, 25 User Bundle with 24x7 Support up to 101-250 User 1 Year
*Requires Qualifying Trade-up Product.
Click here for details.
#02-SSC-2810
Our Price: £1,964.78
Inc. VAT: £2,357.74
More pricing below, click here!

Please Note: All prices displayed are Ex-VAT. 20% VAT is added during the checkout process.
Overview:
SonicWall SMA is a unified secure access gateway that enables organizations to provide anytime, anywhere and any device access to mission critical corporate resources. SMA's granular access control policy engine, context aware device authorization, application level VPN and advanced authentication with single sign-on empowers organizations to embrace BYOD and mobility in a multicloud environment.
---
Mobility and BYOD
For organizations wishing to embrace BYOD, flexible working or third party access, SMA becomes the critical enforcement point across them all. SMA delivers best-in-class security to minimize surface threats, while making organizations more secure by supporting latest encryption algorithms and ciphers. SonicWall's SMA allows administrators to provision secure mobile access and identity-based privileges so end-users get fast, simple access to the business applications, data and resources they require. At the same time, organizations can institute secure BYOD policies to protect their corporate networks and data from rogue access and malware.
Move to the cloud
For organizations embarking on a cloud migration journey, SMA offers a single sign-on (SSO) infrastructure that uses a single web portal to authenticate users in a hybrid IT environment. Whether the corporate resource is on-premise, on the web or in a hosted cloud, the access experience is consistent and seamless. SMA also integrates with industry leading multi-factor authentication technologies for added security.
---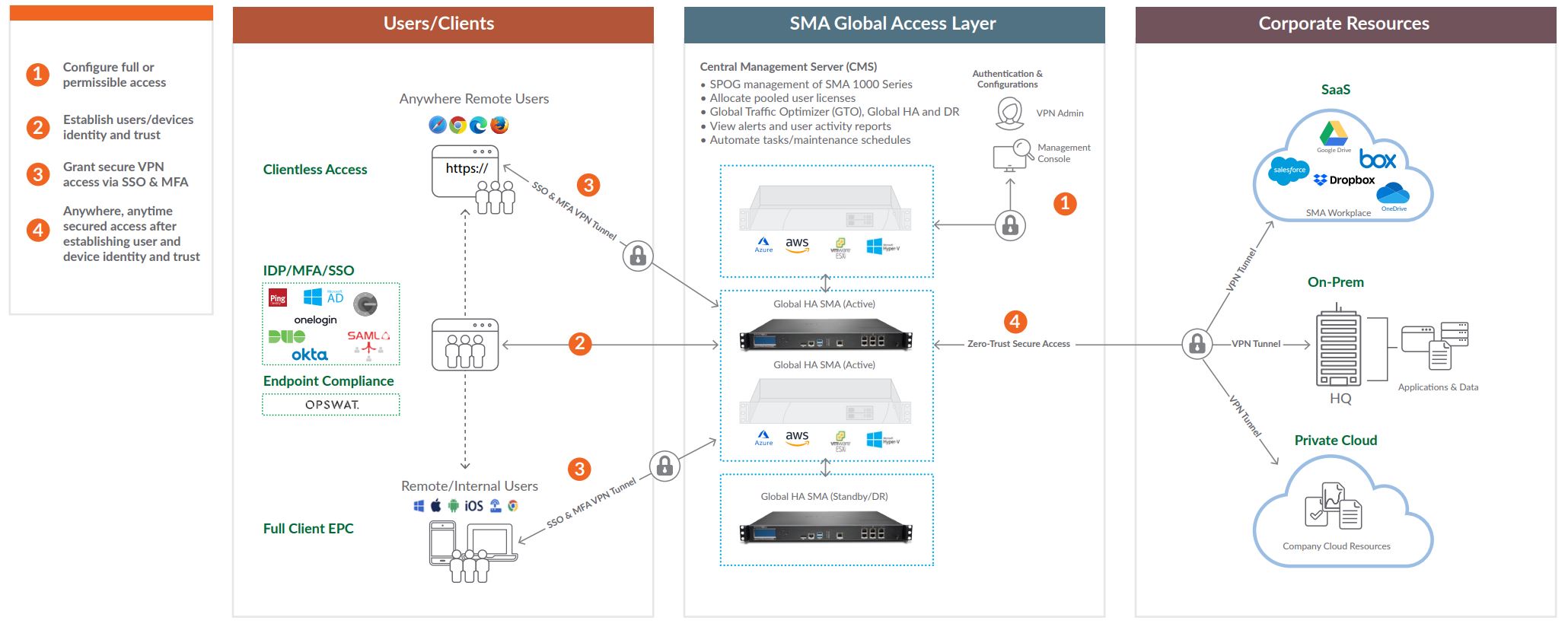 SA hardened edge gateway for anytime, anywhere, any device secure access
SMA provides comprehensive end-to-end secure remote access to corporate resources hosted across on-prem, cloud and hybrid datacenters. It applies identity-based, policy enforced access controls, context-aware device authentication, and application level VPN to grant access to data, resources and applications after establishing user and device identity, location and trust. Flexibly deployed as a hardened Linux appliance or virtual appliance in private clouds on ESXi or Hyper-V, or in AWS or Microsoft Azure public cloud environments.
Flexible deployment with physical and virtual appliances
SonicWall SMA can be deployed as a hardened, highperformance appliance or as a virtual appliance leveraging shared computing resources to optimize utilization, ease migration and reduce capital costs. The hardware appliances are built on a multi-core architecture that offers high performance with SSL acceleration, VPN throughput and powerful proxies to deliver robust secure access. For regulated and federal organizations, SMA is also available with FIPS 140-2 Level 2 certification. The SMA virtual appliances offer the same robust secure access capabilities on major virtual or cloud platforms including Microsoft Hyper-V, VMware ESX, and AWS.
Features & Benefits:
Advanced authentication
SMA uses SAML 2.0 authentication to enable federated SSO via a single portal to both on-premises and cloud resources, while enforcing stacked multifactor authentication for added security.
Access management
Administrators grant or deny access based on organizational policies and set remediation actions when quarantining sessions. ACE object-based policy utilizes elements of network, resource, identity, device, application, data and time.
Intuitive User Experience
Automatically establish a secure connection to the corporate network from company issued Windows devices to improve security, gain traffic visibility and remain in compliance
Superior security
Stop unknown, zero-day attacks such as ransomware at the gateway with automated remediation. Files uploaded using unmanaged endpoints with secure access to corporate networks are inspected by our cloud based multi-engine Capture ATP.
Resilience
Provide users a frictionless experience with zero impact failover. In the event of an appliance going offline, SMA's intelligent clustering reallocates users along with their session data without the need for re-authentication.
Central management & monitoring
Real-time output to central SIEM data collectors allows security teams to correlate event driven activities, to understand the end-to-end workflow of a particular user or application. This is critical during security incident management and forensic analysis.
Extensibility
Management APIs allow full programmatic administrative control over all objects within a single SMA or global CMS environment.
Specifications:
| Specifications | SMA 500v (ESX/ESXi/Hyper-V) | SMA 8200v (ESX/ESXi/Hyper-V) |
| --- | --- | --- |
| Concurrent sessions | Up to 250 users | Up to 5000 |
| SSL-VPN throughput* (at max CCU) | Up to 186 Mbps | Up to 1.58 Gbps |
| Allocated memory | 2GB | 8 GB |
| Processor | 1 core | 4 cores |
| SSL acceleration | NO | YES |
| Applied disk size | 2GB | 64 GB (default) |
| Operating system installed | Linux | Hardened Linux |
| Dedicated management port | NO | YES |
Pricing Notes:
All prices displayed are Ex-VAT. 20% VAT is added during the checkout process.
Pricing and product availability subject to change without notice.