SonicWall NSA Network Security Appliance Series

Advanced threat prevention in a high-performance security platform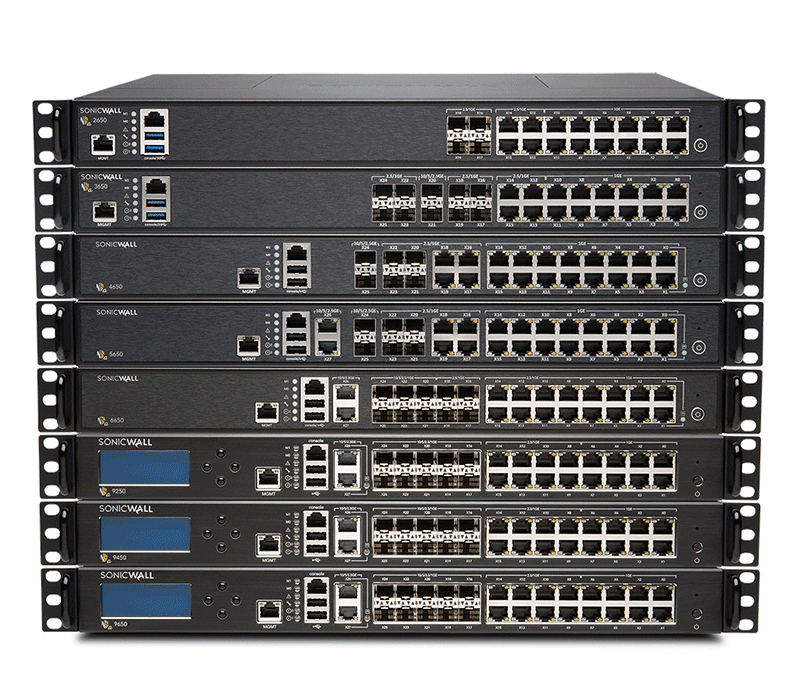 SonicWall Gen 7 NSA Models
NSa 2700 Firewall for Mid-Sized Enterprises
The new SonicWall NSa 2700 expands multi-gigabit threat performance to enterprises, MSSPs, government agencies, as well as key retail, healthcare and hospitality verticals. The first mid-level firewall appliance on the new SonicOS 7.0 platform, the NSa 2700 delivers a modern UX/UI, device views, advanced security control, plus critical networking and management capabilities.
Advanced networking features including HA/clustering, SD-WAN, dynamic routing, and virtual routing and forwarding.
High port density and lowest total cost of ownership for firewalls in its class.
Centralized management using SonicWall's Network Security Manager.
SonicWall NSA Models
Overview
Defeating advanced threats requires an advanced firewall solution built for the needs of your business. The SonicWall Network Security appliance (NSa) Mid-Range Firewall is next-generation security designed specifically for businesses of 250 users and up. Work with the confidence of knowing you're protected against the day-to-day incursions as well as against advanced threats like ransomware, attacks against non-standard ports, and breaches in firewalls, all at the speed of business.
With cloud-based and on-box capabilities like TLS/SSL decryption and inspection, application intelligence and control, secure SD-WAN, real-time visualization, and WLAN management, SonicWall provides flexible, fast and cost-effective security to keep the threats out and your business thriving.
Features & Benefits
Blocks More Attacks With RTDMI™
Blocks More Attacks With RTDMI™ Real-Time Deep Memory Inspection (RTDMI™) proactively detects and blocks unknown malware via deep memory inspection in real time, a revolutionary approach to defend against zero-day and side-channel attacks and other unrecognized threats.
Secure Remote Workers
SonicWall NetExtender provides an intuitive SSL-VPN connection client that's easy to deploy and configure. Easily provide your remote workers with secure access to your corporate network from Linux, Mac and Windows devices.
Secure SD-WAN Technology
Leave MPLS behind for a more agile, more secure and more cost-effective network optimized for today's broadband-driven, cloud-infused landscape. Secure SD-WAN technology is built in to NSa firewalls, so there's no need to purchase additional SD-WAN appliances and licenses.
Built-in Wireless Controller
Implement high-speed wireless security by combining a NSa series next-generation firewall with a SonicWall SonicWave wireless access point. NSa series firewalls and SonicWave access points both feature 2.5 GbE ports that enable multi-gigabit wireless throughput offered in Wave 2 wireless technology.
Low Total Cost of Ownership
Make a SonicWall NSa firewall the start of enterprise savings. From reduced costs through zero-touch deployment to enabling SD-WAN and delivering NetSecOPEN-verified threat block rates on par or better than competitors at a fraction of the cost, SonicWall NSa firewalls are security you can't afford to be without.
Cloud-based & On-Premises Centralized Management
Cloud-based & On-Premises Centralized Management Gain greater visibility into your enterprise even as it becomes more complex on- and off-prem. Tightly integrated into the SonicWall ecosystem, bring your firewalls into a single-pane-of-glass management, licensing, reporting and analytics